MUSIQUE par VoltaireOnline.eu
VoltaireOnline.eu ne voulait pas manquer une rencontre avec Teitur -de passage pour un concert à Paris - pour son cinquième album " Let the dog drive home ". En effet, le lendemain, Teitur partait pour Londres pour poursuivre sa tournée européenne. La presse internationale a déjà salué son talent (
The Guardian
- "never less than extraordinary",
The Independant
-''A wonderfully idiosyncratic talent",
New York Times
-"The airy gossamer arrangements & dreamy vocals evoke the reveries of a romantic troubadour musing out loud as he travels the world". Une rencontre de qualité avec un chanteur-compositeur -centré sur les choses simples: donc l'essentiel-, à l'antipode du paraître factice... Nous vous laissons partager ce moment dans ces acoustiques et un ITW filmés par VoltaireOnline.eu. Vous pouvez nous contacter pour rejoindre l'équipe de reportage VoltaireOnline (contact-at-VoltaireOnline.eu) -nous recherchons des personnes de qualité :) -.
Recherche personnalisée
INTERVIEW EXCLUSIF + BIO + ACOUSTIQUES de TEITUR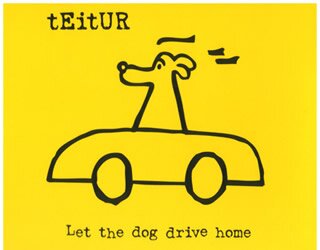 "INTERVIEW/RENCONTRE" avec TEITUR par Marion UHLE -clip HD stéréo VoltaireOnline.eu-
INTERVIEW AVEC TEITUR PAR MARION UHLE
Teitur, what are your origins and how did your musical career begin?
Well, I'm from Scandinavia; I have always been making music since I was a kid, … and writing songs. I've travelled all over the world, played my music, my songs. I'm on tour now; I've made my fifth record just now, and I'm just touring.
So, where did it really begin?
I actually started as a songwriter in a publishing company… Well, I mean I also had a band there when I was younger, when I was a teenager. And then I stopped in bands, and just wanted to write songs, and then I made my first record in 2002. I got signed in America with a label… and then I became an artist I guess. That's it.
One of your albums is dedicated to your home country. Can you tell us a bit more about that?
Yes, I wrote the songs in Faroese, which is my native language. I mean I write songs all the time; so the songs just came about. So when there were enough, I just decided to make a record and release it there.
Your last album is called 'Let the dog drive home'… What does the name actually mean?
Well, it's not really about dogs or driving. It's just a metaphor. It's an old song I wrote. And the collection of songs on the record, they are really much about letting go, about being small. So the song, it represents that, and the title is a good title for that idea.
®DR

So, is it your favorite song then?
No, not necessarily. I like all my songs. I don't have a favorite song or songs I don't like. They are just songs.
Your name, in old language, means "happy". Does that apply to you?
Oh yeah, I think I'm pretty happy. Well, I'm not laughing my pants off every day. But I'm pretty happy I think, like most people.
You're being in Paris right now and you're giving a concert here tonight. On your website you wrote Paris is your favorite place in Europe. Why?
I just love the atmosphere here, the people, the mentality… It's just a feeling. I think that you have just a feeling when you come to places. I have been pretty much all over Europe, in many cities, and Paris is just my favorite. I love being here.
What do you want to express with your music?
I just write songs. I try to write songs that only I can write. I guess that's the best I can do as an artist. And that's basically it. I want to make my songs be something specific, I want to share something. I don't try to just make them up, just to sound good; I try to tell something I am serious about. What are your future plans? Well, I'm just writing more music and working on more music. I'm just doing always the same thing really.
BIOGRAPHIE
Les îles Feroé :
Teitur Lassen est né à Hoyvik le 4 Février 1977. Hoyvik est la troisième ville des îles Ferroé avec environ 3300 habitants. Les îles Ferroé sont situés sous l'Arctique à mi-chemin entre l'Islande et la Grande Bretagne. Ces îles font partie du Royaume du Danemark. Teitur signifie joyeux en vieux norvégien. Interrogé à ce sujet, Teitur nous répond avec un sourire qu'il est "pretty happy". Il s'agit plus pour ce Scandinave d'un état qu'une exhubérance débridée. Les paroles de ses chansons l'attestent et décrivent des choses essentielles à la vie, la vraie vie, un monde éloigné du vide de la superficialité. Teitur commença sa carrière d'un groupe "Mark No Limits",comme chanteur et compositeur et acquiert une notoriété.
Copenhague, l'Europe et les Etats-Unis:
Après sa participation au festival de musique danois, il est remarqué par Christian Ulf-Hansen, un des dirigeants de BMI (Broadcast Music Inc) qui devient son manager. BMI gère les droits des artistes au niveau mondial (chanteurs, compositeurs...). Teitur signe avec Columbia ( label de Universal Music ) et sort en 2003, son album " Poetry and Aeroplanes". Cet album - enregistré en Espagne et à Los Angeles par des muisiciens de renom et permet de faire connaître Teitur hors de la Scandinavie. Cette popularité nouvellement acquise lui permet de d'effectuer des tournées avec Suzanne Vega, Aimee Mann, Glenn Philips et John Mayer. Ce dernier salue élogieusement cet album et le considère comme un des meilleurs albums des cinq dernières années".
album Poetry and Aeroplanes
Le buzz affirme Teitur à l'international:
Plusieurs titres -dont Josephine - sont programmés dans les playlists des radios d'audience respectable, mais aussi des télévisions de grande audience -comme MTV-. Le titre "One and Only " est dans la bande originale du film "Aquamarine". Dans ce film américano-australien, Sara Paxton et Emma Roberts tiennent les rôles principaux. Le titre "One and Only " est aussi repris en 2006 dans le film "My super ex-friend" avec Uma Thurman. Ces titres repris dans des films grand public et le buzz médiatique lui permettent d'entreprendre des tournées à l'international dans plus de 20 pays. Comme un certain nombre d'artistes de qualité, l'absence de promotion des majors n'empêche pas Teitur d'acquérir une notoriété à l'international, le bouche à oreille et le buzz internet joue un rôle majeur pour le faire connaître au pubic international.
Une album en Feroïen sur l'île d'Ingmar Bergman:

Teitur quitte Colombia ( Label de Universal Music ) pour des raisons artistiques et contractuelles. Il rejoint un nouveau label Arlo & Betty Recordings fondé par son manager. En 2006, il enregistre son album "Stay Under the Stars" avec Arlo & Betty Recordings. Cet album est produit par Martin Terefe ( Jason Mraz, Ron Sexsmith,Train...). Cet album est classé au Top 40 au Danemark avant les Etats-Unis, le Canada, l'Allemagne, la Suisse et l'Autriche. En 2007, Teitur fidèle à sa culture et sa langue enregistre "Káta Hornið chez Tutl Creative Music. VoltaireOnline ne peut que se féliciter qu'un artiste valorise sa propre culture et est une approche multiculturelle. L'enregistrement est effectué sur l'ïle de Gotland. Ce lieu mythique- où Ingmar Bergman vécut et tourna plusieurs films. est une île située dans la Mer baltique entre la Suède et la Lettonie. Le studio d'enregistrement de Teitur est installé dans la grange de la maison familiale du cinéaste dans la Villa Fridhem. En 2008, "The Singer" chez Arlo & Betty Recordings et en 2009, "All my mistakes" chez A&G -avec en particulier, les titres Josephine et Louis, Louis-.
Discographie:
1996: Mark No Limits, Tutl Creative Music
2002: Sólin og Regnið, Teitur Songs
2003: Poetry and Aeroplanes, Colombia (Universal Music)
2006: Stay Under the Stars, Arlo & Betty Recordings Ltd
2007: Káta Hornið, Tutl Creative Music
2008: The Singer, Arlo & Betty Recordings Ltd
2009: All my mistakes, A&G
2010: Let The Dog Drive Home, Arlo & Betty Recordings Ltd / Playground Music
JOSEPHINE -clip HD réalisé par VoltaireOnline.eu-
Auteur/Compositeur : TEITUR
Dreamt I was back with the pirates and cats of my sommerville
The girl in the alphabet shirt covered in dirt lives on the hill
Well, my sweet Josephine,
Are you still racing stray dogs Across the old stream?
My neighbourhood queen,
Are you still kissing cowboys that cry, Josephine?
She stole my grandmother's watch, a treasure to touch, to keep time to herself
Her mind was a very big house, we got lost there for hours until August fell
Well, my sweet Josephine,
Are you still racing stray dogs across the old stream?
My neighbourhood queen,
Are you still kissing cowboys that cry, Josephine?
You say you're alright, but Josie it's time
You gotta get your feet on the ground
But she says: No, don't you see we have wings,
It's the funniest thing, it's just that no ones knows.
No one knows,
sweet Josephine Well,
my sweet Josephine,
Are you still racing stray dogs Across the old stream?
My neighbourhood queen,
Are you still kissing cowboys that cry, Josephine?
FREIGHT TRAIN !-clip HD réalisé par VoltaireOnline.eu-
Auteur/ Compositeur: TEITUR
©voltaireonline.eu