MUSIQUE par VoltaireOnline.eu
Recherche personnalisée
INTERVIEW WITH HERMAN DUNE by Jessica Bagic -VoltaireOnline.eu-

You're going to take part to several French festivals this summer. How do you feel about performing here, in this context?
French Festivals are often High Class Festivals. Rock En Seine, Calvi On The Rocks, these are amongst the bestest festivals in the world I feel...
You've travelled all over the world these past years to perform your songs. Is it important for you to share your music with your audience, and be on stage regurlarly?

Stage Performance is an important part of our Art. I need to write, record AND play live. In order to do so, Herman Dune needs to travel year in year out to meet and confront all kinds of crowds.
You evolve in a universe rocked by hints of different styles of music. Can you share with us the sources in which you get your inspiration, and if there are some artists or genres you particularly appreciate?

I appreciate Artists as individuals, not genres, Genres make me sick, at least anything narrower than "Rock & Roll" is to me a faltered description for music. I listen to Bob Dylan, The Beatles and their side Projects, The Velvet Underground, The Rolling Stones and U2. I also like younger acts like Caitlin Rose, Darwin Deez and Mayon.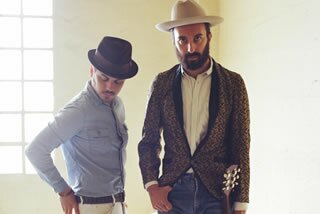 Lots of people discovered your universe with your album Giant (2006), which also coincides with the moment when you became a duo. Can you tell us a bit more about the motivations which led you to take this decision, and the influences that inspired you for this record?

We are artists who commit to the concept of Freedom when it comes to our creative output. The path of compromises is not appropriate to a proper research in Music and Songs. Our trio had become a knot of compromises we needed to let go to really be ourselves.
Your "roles" seem to be well defined in the band. Did it appear natural that you, David-Ivar, should take care of the song-writing, voice and guitar while Néman deals with the drums and backing vocals?

Natural, I don't know, but it certainly is the way we work, and we like it this way...
Tell Me Something You Don't Know About is the first single from your album Strange Moosic, which appears as a new start for you. Can you tell us a bit more about this album, and this song in particular?

It's a song about how a relationship is a great adventure that gets more subtle with time and complicity. It's about knowing someone you love and even liking the aspects of their personality that wouldn't be your cup of tea if you weren't romantically involved. I feel that I have written a lot about women, and the start or the end of some relationships, but not often had I given longterm relationships their rightful dues!
BIO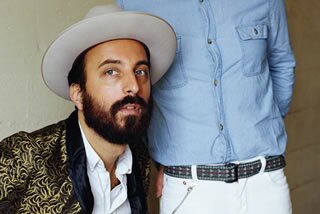 Herman Dune is a duet composed of David-Ivar Herman Dune and Néman Herman Dune. Originally, David-Ivar's brother, André, was also part of the band before he took leave in 2006, coinciding with the release of their record Giant, by which they gained a greater audience all other the World. In 2010, after releasing a new album -Next Year in Zion- they decided to start their own Record Company, naming it Strange Moosic. This represents a new start in their career, as their record –Strange Moosic- witnesses with songs as Tell Me Something I Don't Know. Herman Dune really cares about performing and exploring different musical styles, universes. They've been touring for almost two years without a break before stopping to work on their last record.
Eager to discover and to share with their audience, they have, since their early years, been acquainted with different cultures: they both grew up in Paris, but David-Ivar's parents had Swedish and Jewish origins, and he quickly learnt how to speak English by playing chess with his grandfather.
At eleven he had already written his first song in English. For their last album, they worked on rather short songs which they recorded as twenty different single tracks before picking up thirteen among them –the ones we can hear in the album-. Full of double meanings, these songs need to be listened to a couple of times to really enjoy the richness of them, and the poetry sometimes hiding between the lines. For the video of Tell Me Something I Don't Know, the band invites us to follow a blue Yeti hitch-hiking who meets a young man on the road (played by John Hamm, actor in Mad Men) who takes him to a concert of Herman Dune, in the forest. The invitation to go on a journey with them is sent, we just have to follow them and let them guide us through their last album!
Discography: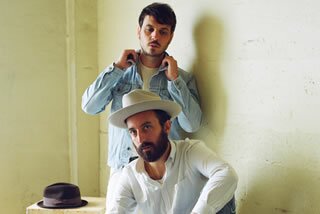 albums:

2011 – Strange Moosic
2008 – Next Year In Zion 2006 – Giant
2005 – Not On Top
2003 – Mash Concrete Metal Mushrooms Mas Cambios
2001 – They Go To The Woods
singles and EPs:

2011 – Tell Me Something I Don't Know
2009 – On A Saturday EP 2008 – Try To Think About Me
2007 – I Wish That I Could See You Soon
2006 – Jackson Heights I Wish That I Could See You Soon
©voltaireonline.eu